15/06/2018
Big Data Insight 21 June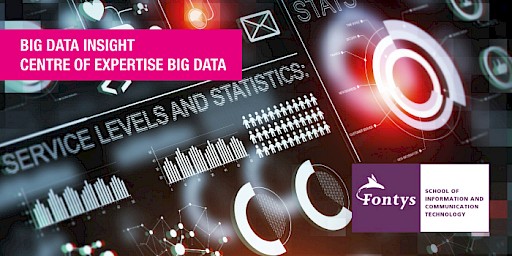 Students from the minor Data Driven Business Lab and Semester 6 ICT & Media Design would like to invite interested Partners in Education at their final event!
The past semester they have worked on multiple projects within the IT branch with a focus on data and media design. The projects range from finding solutions with data to app design to thinking of new concepts that will revolutionise the world.
That last part might be a stretch, but at the very least they tried!
That is why the students are organising an event that will showcase their work. To give you the possibility to attend workshops, listen to guest speakers and more. Please feel free to come and join the event at Fontys, meet the students and give feedback so they can improve their work and theirselves.
Not all speakers and workshops are confirmed yet, but we can already mention that Iver van de Zand from SAP will give a keynote at the end of the afternoon!
More information about the actual programme on our website.
Location
This edition of Big Data Insight on 21st of June will take place at Fontys, campus Rachelsmolen, Rachelsmolen 1 in Eindhoven.The programme will start in the Restaurant of the R1 building, first floor.