Why Partners in Education?
Businesses show students what it's like in the professional field.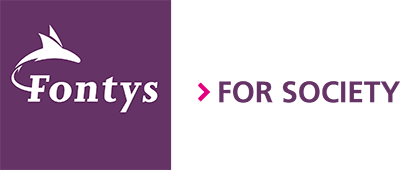 We have been working together with the business community for over fifteen years. This enables us to provide innovative and inspiring education. This cooperation we consider serious commitment. By involving companies intensely in education, the curriculum becomes more impactful for both students and teachers. And ultimately also for the business community. We are very proud of this successful cooperation format with more than 150 partners, and we would like to share with you how we involve the professional field in education and research.
Connecting education directly to the professional field.
For Fontys Information and Communication Technology, helping a student develop into a professional for the labour market is key. We want students to enter the professional field well prepared after their education, able to apply theory directly into practice. Nobody can support this better than the business community itself. Therefore, from the start of their studies on, our students work together with the field.
For over fifteen years we have been collaborating with businesses. Because of this, we are able to provide new, inspiring and meaningful education.